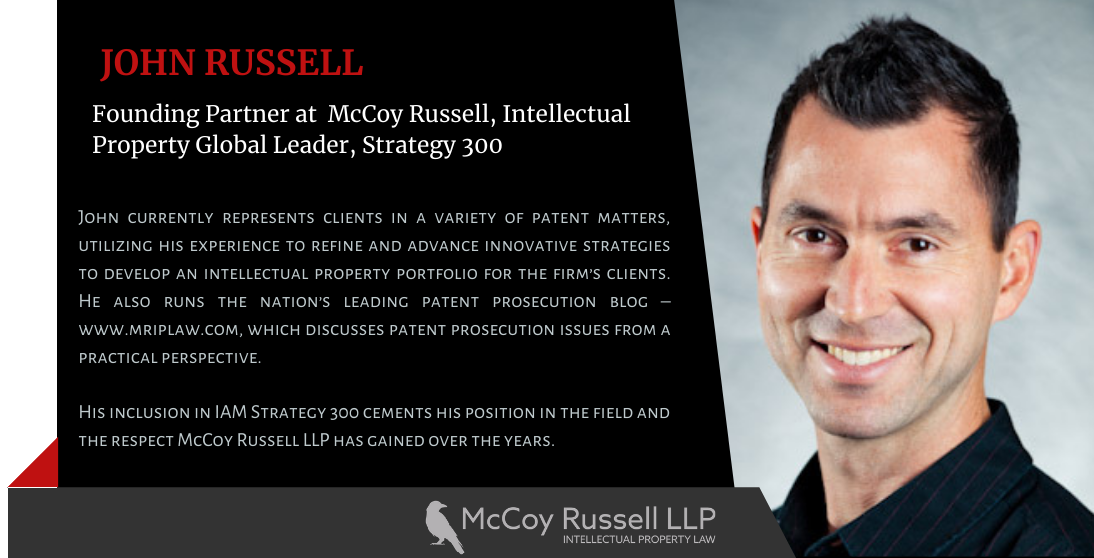 The first edition of IAM Strategy 300 Global Leaders Guide (https://www.iam-media.com/strategy-300-global-leaders-all-individuals) has launched and John Russell is among this elite group of IP Professionals. John heads McCoy Russell LLP's patent prosecution and appeal practice and has been developing successful patent drafting and prosecution strategies across a diverse set of industries, such as transportation, medical technology, green energy, and artificial intelligence and machine learning. Strategies he's developed, including leading portfolio development brainstorming and overseeing prosecution strategy, have generated valuable portfolios for clients including portfolios that have generated millions in licensing revenue or stopped a competitive from entering the market altogether.
John started www.mriplaw.com after noticing the lack of patent prosecution strategies and resources on-line. "There were others in the community that could benefit from a forum where prosecution strategies are discussed in terms of their practical applications and real-world effects." notes John. Mr. IP Law has become a leading patent prosecution blog with no paid advertising.
McCoy Russell LLP is the only patent law firm in Oregon represented in the IAM Strategy 300. John Russell's inclusion in IAM Strategy 300 cements his position in the field and exemplifies the respect McCoy Russell LLP has gained over the years.
####
The IAM Strategy 300 "identifies the individuals who are leading the way in the development and implementation of strategies that maximize the value of IP portfolios." Strategists are chosen through confidential nominations and an extensive research process.