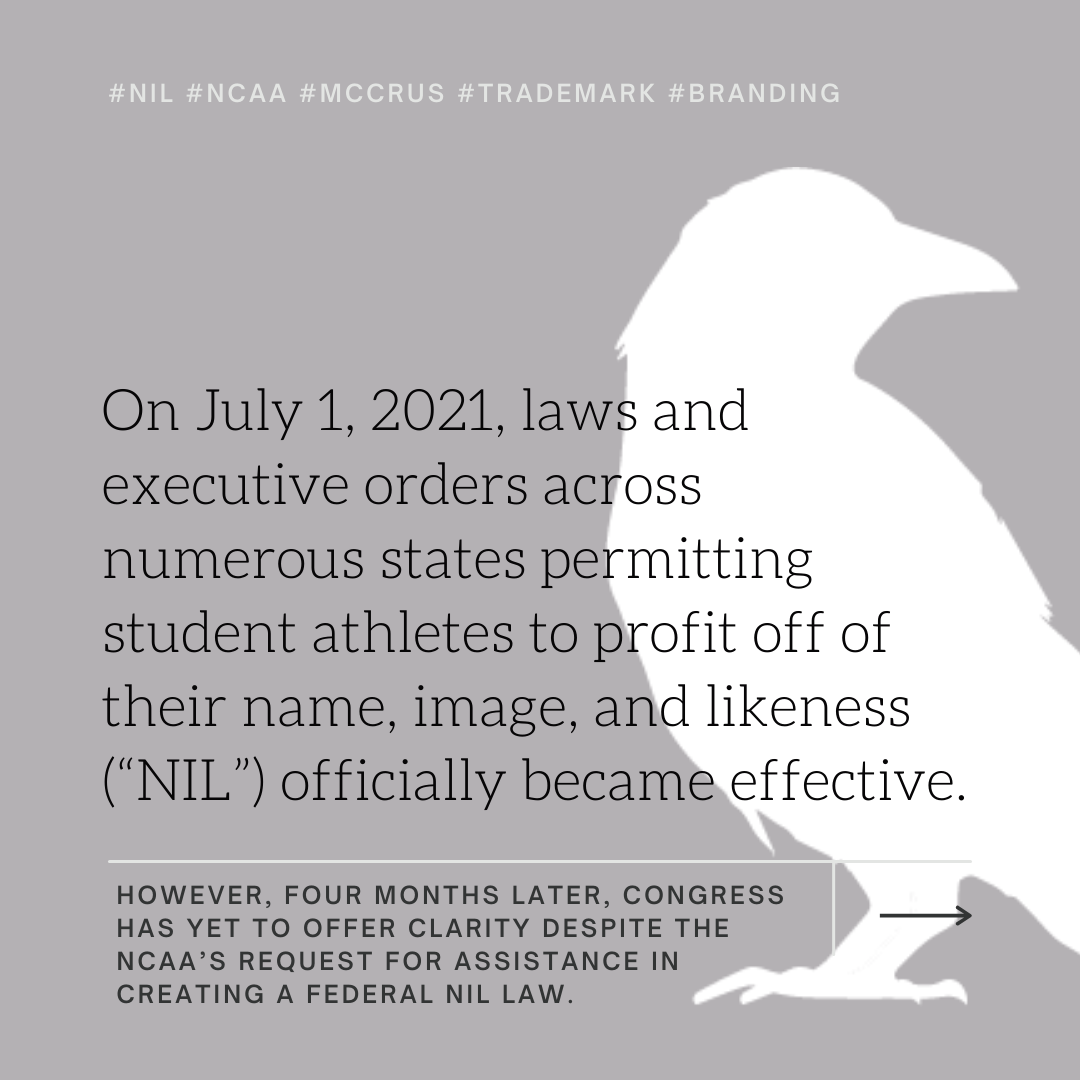 On July 1, 2021, laws and executive orders across numerous states permitting student athletes to profit off of their name, image, and likeness ("NIL") officially became effective. Many thought that lawmakers in Congress would view this looming date as a deadline to pass a bill providing nation-wide guidelines for current and incoming student athletes; however, four months later, Congress has yet to offer clarity despite the NCAA's request for assistance in creating a federal NIL law.
So what's the holdup?
While there is bipartisan support in enacting some form of legislation regarding NIL rules, with a multitude of student athlete compensation proposals on the table, some hotly-contested issues have brought lawmakers to their respective sides of the aisle. One bill under consideration provides for broad and sweeping legislation which would include revenue sharing, lifetime scholarships, and unrestricted endorsements, while another bill shows the opposing train of thought, providing for very specific legislation narrowly tailored to solely focus on NIL rules, and featuring certain athlete restrictions and NCAA protections. Other sticking points include whether a school should be able to control an athlete's endorsement or commercial opportunities, the role of boosters, guidelines for determining the fair market value on commercial deals, the possibility of providing athletes with long-term healthcare, and determining which department would be tasked with enforcement.
With no way to estimate how long it will take for Congress to act, other federal bodies are stepping into the fray.
In an unprecedented step toward federal recognition, the National Labor Relations Board recently issued a memo which classifies certain private college athletes as employees under federal labor law, granting them the same rights and protections provided to professional athletes and other private sector employees. The memo paves the way for student athletes to be covered under the National Labor Relations Act, a statute guaranteeing employees in the private sector the right to organize into trade unions, strike, and participate in collective bargaining.
The National Relations Board memo comes on the heels of a landmark Supreme Court decision in the antitrust case National Collegiate Athletic Assn. v. Alston. This case centered around limits to payments and other benefits tied directly to education, such as compensation for internships and book stipends.
The court ruled in a unanimous decision that the NCAA's cap on educational-related benefits is an unfair restraint to trade, in violation of the nation's antitrust laws.
Justice Brett Kavanaugh's scathing concurrence drew particular attention, remarking that, "[n]owhere else in America can businesses get away with agreeing not to pay their workers a fair market rate on the theory that their product is defined by not paying their workers a fair market rate…under ordinary principles of antitrust law, it is not evident why college sports should be any different. The NCAA is not above the law."
With the National Labor Relations Board making their stance clear, the Supreme Court openly criticizing the NCAA's practices, and so many states passing their own patchwork of ad-hoc NIL laws, the writing is on the wall. The federal government will eventually need to step in to create some clear sense of standardization for student athletes.
With that being said, there is no indication that a universal policy will pass through Congress any time soon, so it is important for student athletes to meet with a trademark and branding specialist now to assist them in traversing through the complex NIL rules of each state and school. At McCoy Russell LLP, our team is prepared to help our student athlete clients to navigate this groundbreaking shift in player rights.