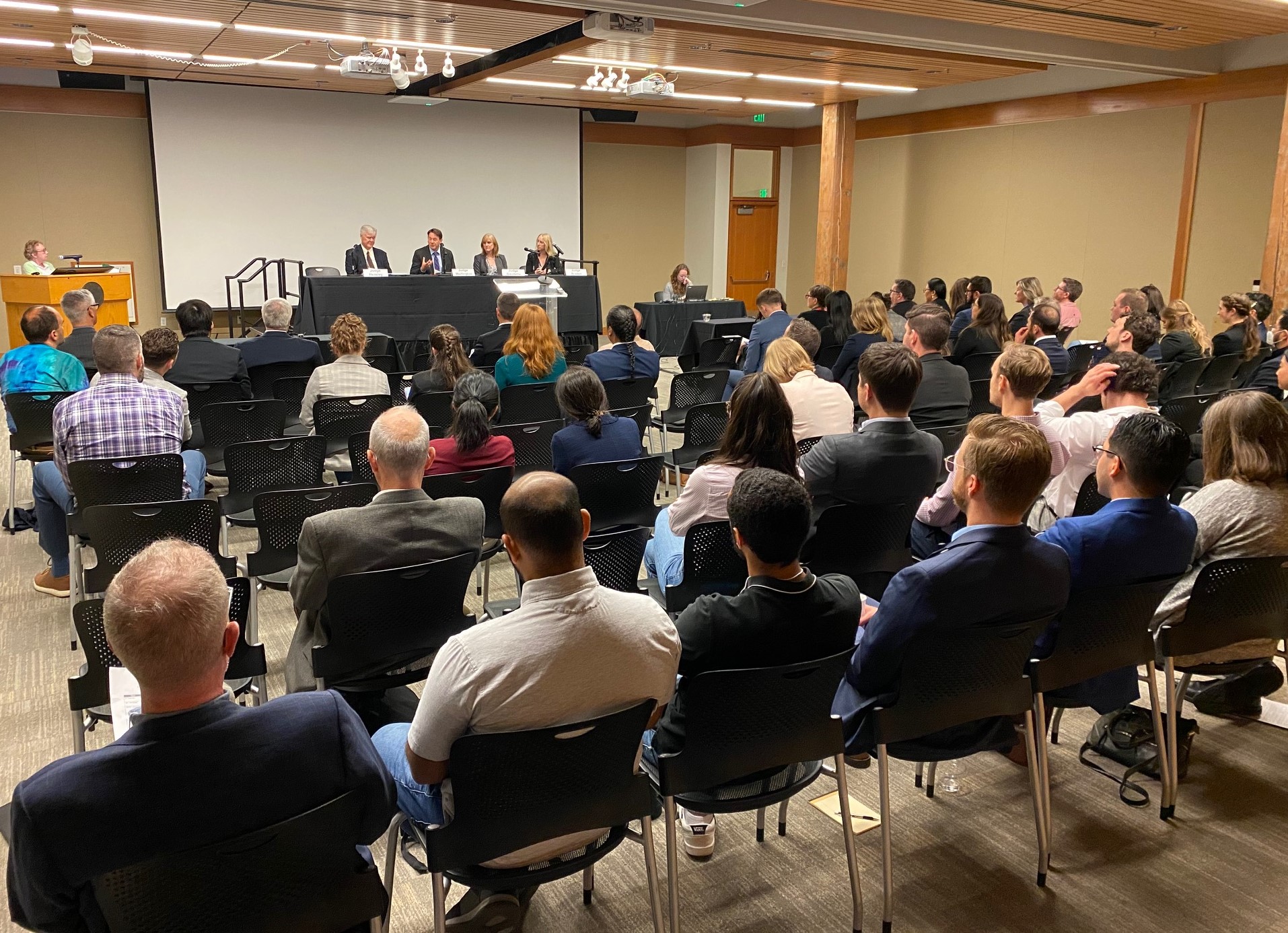 McCoy Russell attorney Justin Wagner attended the U.S. Patent and Trademark Office (USPTO) Stadium Tour that was hosted by the University of Oregon Law School in downtown Portland last week. Each year, the USPTO selects a handful of law schools around the country to host a stadium tour but this was the first stadium tour to be held in Oregon. Several patent and trademark judges participated in the full-day event, including Georgianna Braden, the Lead Administrative Patent Judge, and Mark Thurmon, the Deputy Chief Administrative Trademark Judge.
After an introduction to Trademark Trial and Appeal Board (TTAB) proceedings, a panel of three TTAB judges presided over an oral argument for a trademark opposition. The case involves a trademark application for the mark Honest Pop filed by La Brisa Ice Cream Company for their frozen fruit confections. Counsel for the opposer, Honest Tea, Inc., argued that a granting of the mark to La Brisa would result in consumer confusion with regard to various products sold by Honest Tea that have the word honest in the name.
The afternoon session began with an introduction to Patent Trial and Appeal Board (PTAB) proceedings, followed by two separate PTAB proceedings. The first proceeding was an Ex Parte appeal in which counsel for the patent applicant argued in front of three PTAB judges that the invention, directed to plasterboard panels, is patentable over the prior art despite the Patent Examiner's insistence otherwise. The second proceeding was an oral hearing before three other PTAB judges for an Inter Partes Review (IPR) regarding an issued software patent. A key issue in that case regarded use of the term "configuration error" in the patent.
Four of the judges were part of an advocacy panel in which they shared best practice tips for practitioners. For example, they recommended that attorneys avoid a "shotgun approach" in which they present as many arguments as possible because such approach can clutter the proceeding and frustrate the judges; rather, the judges recommended an approach in which the first and last arguments are the strongest arguments. The judges also recommended the use of reply briefs, which are often not used by practitioners, but they cautioned the use of non-precedential opinions unless the case is directly on point to the case at hand.
At the end of the day, Eric Priest, IP Professor at the University of Oregon, made some closing remarks before dismissing the crowd for an evening reception with the judges, most of whom had never been to Portland before. Justin enjoyed speaking with the judges at the reception, one of whom is a former colleague of Justin.